June 19, 2014
We've thrown barbecues and potlucks, and paired our share of wine and cheese. But we haven't experienced a lot of carefully curated juice mixers — where refreshing cold-pressed juices are perfectly paired with dishes like herb-roasted pork tenderloin and roasted squash and cauliflower bisque. Thanks to Salt Lake City's Becky Rosenthal and friends, our first juice mixer was a smashing success.
How did you pair the juice and the food?
There definitely wasn't lot out there on the subject. So I worked with local sommelier and wine maker Evan Lewandowski to determine the characteristics of each juice and figure out how those best matched up with the characteristics of the food we wanted to serve. You can see some of our ideas in the new Evolution Fresh pairing guide, which will make it easier for others to create juice pairings of their own.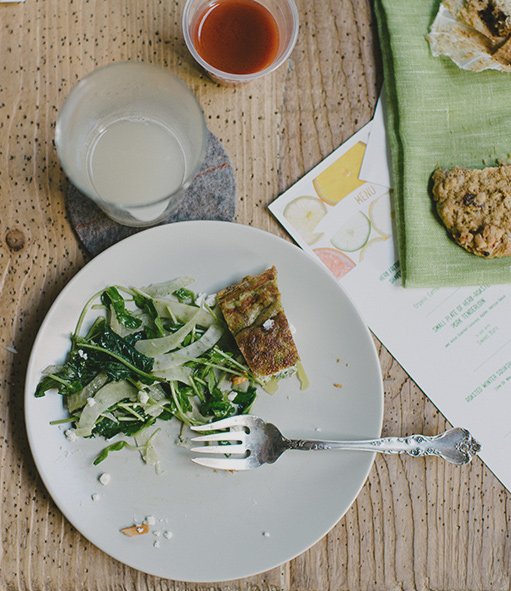 How did you choose your recipes?
I gave chef Adam Kreisel our then-rough pairing guide and some Evolution Fresh juices to try. We knew we wanted a brunch event, so Adam formulated just the right recipes based on the flavors in each juice.
What advice would you offer people who want to throw
their own juice mixer?
Start with your pairings.
Have a favorite juice blend? Set on serving frittatas? It doesn't matter if you choose your food around your juice or your juice around your food. Use the pairing guide to discover complementary combinations like green juices with sweet and salty dishes, root-vegetable juices with earthy or spicy dishes, and apple-based juices with leafy or sweet fare. Try each pairing for yourself well before your event. And don't be afraid to get creative. This isn't an exact science.
Decide if you're making or buying your juice.
We planned our juice mixer around Evolution Fresh juices like Defense Up, Sweet Burn and Pineapple Coconut Water. You can do the same, or create your own juice blends from scratch if you're up for it.
Stock up on pitchers and cups.
The last thing you want to be doing is washing dishes in the middle of your event. I suggest setting up a rinsing station so guests can continue using the same cups throughout the event — or use compostable paper cups they can discard in easily accessible bins as they go.
Consider serving in courses.
It's nice when everyone is enjoying the same dish and a juice combination at once. It adds to the experience and helps ensure that all your guests get to try everything you serve. This also means you'll probably want some help in the kitchen, so you too can enjoy the juice mixer you've created.
Make your décor as unique as your event.
Set out actual fresh fruits and veggies that match the juices you're serving to help people identify a juice on sight. And carry this fresh theme through to your table décor with bouquets of kale or lettuce displayed in jars or vases like flowers.
Becky Rosenthal (left)
When Becky's not planning events around everything from salami to whiskey to tea, she's chasing her toddler, reviewing and promoting the burgeoning Salt Lake City food scene on TheSLCfoodie.com and sharing recipes, hosting advice and more on TheVintageMixer.com.
Adam Kreisel (center)
Trained at the California Culinary Academy and seasoned in esteemed kitchens around the world, Adam has spent 20+ years pursuing his love of food in all its forms. Today, he caters events, consults with restaurants, concocts a soup of the month and more through his company Chaia Cucina.
Evan Lewandowski (right)
Evan spent over a decade absorbing the art and business of winemaking in northern Italy, Argentina, New Zealand, Australia and France before starting Ruth Lewandowski Wines. Today this sommelier makes a range of natural, unfiltered, organic wines, all fermented and bottled in Utah.