Our Story
With Evolution Fresh, you squeeze more out of the moment. Our cold-pressed process captures the full flavor of fresh fruits and vegetables. Deliciously pure. Super nutritious. Smartly preserved, to help you press ahead with just a drop more joy.
The Cold-Pressed Difference
We believe in a different approach to making juice. The cold-pressed way. It's our way of helping protect the flavor and nutrients of the raw fruits and vegetables we bring into our juicery. No added colors or flavors nature didn't put there. Just our favorite produce, tasting as close to fresh picked as possible with minimal processing.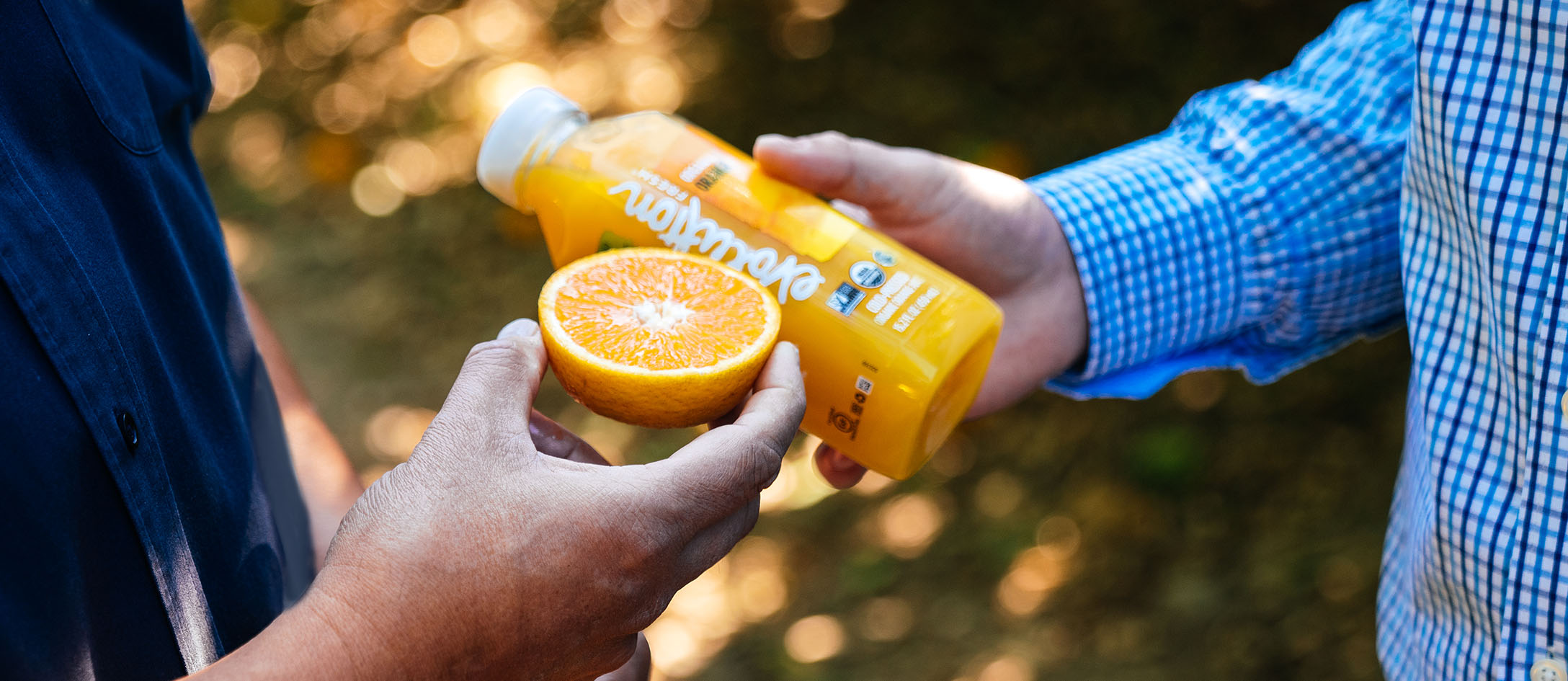 Many juices on the market have been heat-pasteurized, which may affect the natural flavors of the ingredients. That's why we cold-press our juice using high pressure processing. This keeps fruits and vegetables chilled from the moment they enter the juicery to the moment you take your first sip.
The produce we locally source is rushed to the juicery, where it's cleaned, squeezed, and pressed. Once we have crafted our juice blends and bottled them, we apply pressure equal to five times that found in the deepest part of the ocean to help protect flavor, color and nutrients while ensuring safety.

Pursuing Perfection
"Where did we build our juicery? Close to farms that supply fresh fruits and vegetables all year long."
Most of the produce used for our juice is grown in Southern California, where we get leafy light-greens, crunchy root vegetables and tangy-sweet citrus based on seasonal growing patterns — from farms in Salinas down to the southern Imperial Valley in both California and Arizona. Who's tracking it all down for us? Our ingredient-sourcing specialists, who have over 51 years of combined experience working with produce experts and growers around the world.
A few more facts about the produce in Evolution Fresh juices:
93% of our fresh produce is from the western U.S.
82% of it is grown within 400 miles of our juicery
Our pursuit of the best ingredients takes us to the Philippines for coconut water, Peru for ginger, Mexico for mangos and pineapples, and Hawaii for turmeric
We offer both conventional and organic juices to make them broadly accessible
All our juices are Non-GMO Project verified, with the exception of Protein Power Smoothie, which we're working hard to convert and cold-press

Highlights From our history
1995

Evolution Fresh is born with a mission of giving more people access to the most delicious, nutritious juice.

2010

We invest in high pressure processing, making it possible for us to share our juice outside of California.

2011

Starbucks acquires Evolution Fresh, an investment in making wellness more accessible for all.

2013

We open the st juicery of its kind in North America in Rancho Cucamonga, CA allowing us to bring Evolution Fresh juices to the entire U.S.

2018

Most people quit New Year's resolutions before January ends, that's why we founded National Green Juice Day. On January 26th we celebrate green juices because even the small, healthy choices we make can evolve our day.

2020

Evolution Fresh becomes TRUE Certified, which highlights our commitment to making production practices more sustainable and friendly to the environment.

We don't just pull our juice blends out of thin air. Our team draws from 30+ years of combined culinary experience to determine how the natural qualities of each fresh fruit and vegetable can be creatively combined for optimal flavor. Often in ways you'd never imagine. Like in the blend of savory celery, hearty kale, sweet apple, tender spinach and tart lemon in our Sweet light-Greens and Lemon.