You deserve a mid-day meal that feels good, tastes great, lifts your spirits and soothes your soul. And you don't have to spend hours in advance preparing such a loving choice of a lunch. We've done a little digging at grocery-store delis to find out what good stuff is available to grab and go. We've also suggested the perfect nutritious, delicious Evolution Fresh juice pairing for each nourishing nosh. Here you go:
Main dish: Asian stir-fry noodles and veggies
Sides: Wasabi peas and crystallized ginger
The perfect Evolution Fresh™ pairing:
Organic Sweet Greens with Ginger complements this flavorful Asian fare with a blend of leafy greens, crisp apple and spicy ginger. The juice's subtle sweetness balances the saltiness of the stir-fry and the peas. A side of crystallized ginger brings out the ginger notes in the juice.
Main dish: Spring rolls with peanut dipping sauce
Sides: Peanuts and a fortune cookie
The perfect Evolution Fresh™ pairing:
Essential Greens with Lime enhances your savory-sweet meal with over one pound of green vegetables in one 15.2 fl. oz. bottle. This leafy green juice finishes with a tangy hint of lime that pairs perfectly with the creamy taste of the peanuts.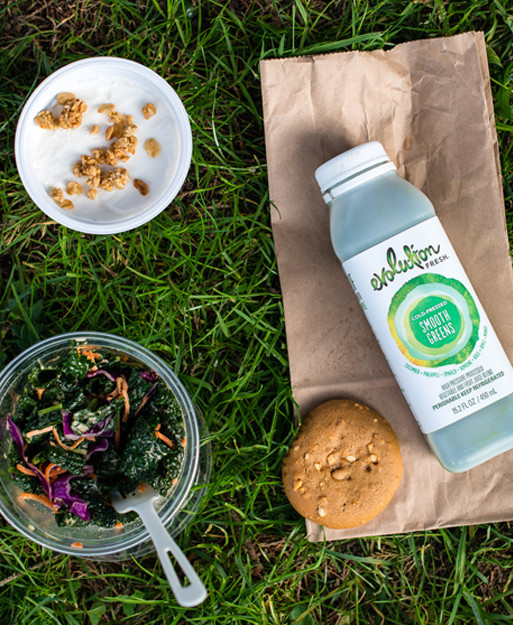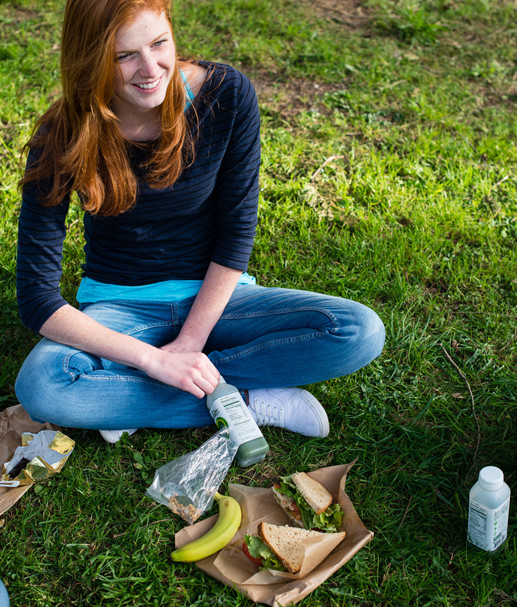 Main dish: Chicken, lettuce, tomato and avocado sandwich
Sides: Banana and granola
The perfect Evolution Fresh™ pairing:
Sweet Greens and Lemon has the sweetness of apple and a tart squeeze of lemon that make it a refreshing companion to this more substantial meal. It's a pairing full of familiar flavors that will please many a palate. Choose a barely ripe banana for a slightly grassy taste that matches up nicely with the juice.
Main dish: Kale Salad with brightly colored veggies or fruit
Sides: Yogurt and peanut butter cookie
The perfect Evolution Fresh™ pairing:
Smooth Greens is a heartier juice that makes a great counterpart to a light salad. The sweet splash of pineapple balances the earthier flavors of kale. And the crunchy texture of the salad contrasts nicely with the smooth yogurt and juice. The plentiful greens in this meal make the rich peanut butter cookie a particularly satisfying finale.
One lunch at a time, you can build a good-for-you habit that puts a skip in your step and a smile on your face. And why not eat outside while you're at it? We'll be right there with you on the green.