At Evolution Fresh, we are green juice lovers, daily drinkers, and evangelists for the benefits of green juice. We created our very first green juice, Essential Greens, in 1995 and have worked since then to expand our assortment to 5 green juices. This summer, we introduced two new flavors, which we are excited to share with everyone: Coconut Water and Greens and Smooth Greens.
Coconut Water and Greens is a refreshing and hydrating juice blending coconut water with cool cucumber, leafy greens, and splash of sweet. In our 'greens spectrum' we see this as the best for new green juice drinkers as well as a refreshing switch up for daily drinkers.
Smooth Greens is a green vegetable and fruit juice blending cucumber and leafy greens with pineapple, apple, and mint for a soft and smooth finish - this is ideal as an every day green juice and offers variety for daily green juice drinkers.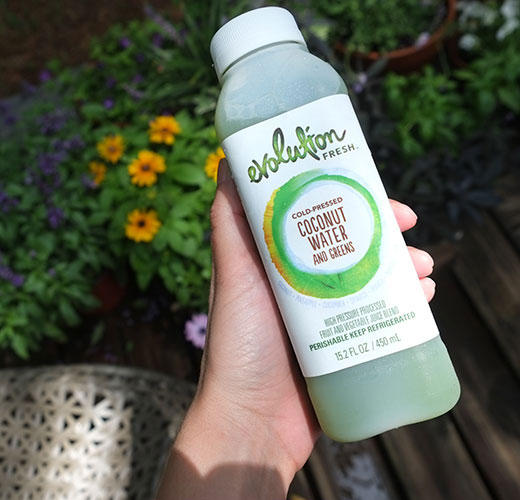 Learn About the Right Juice For You
With our expanding greens family, we want to ensure that everyone finds their green juice soul mate. We've put together a helpful tasting chart (above) that will help you think about your flavor options. In terms of 'greenness' or that green taste you associate with leafy greens, the juices get more green left to right. The juices on the right are considered our most advanced green juices.
A few other things consider when selecting an Evolution Fresh™ green juice:
• Some of our juices have ingredients that strongly influence the flavor profile. For example, the ginger in Sweet Greens and Ginger or the mint in Smooth Greens. Review the ingredients listed on our product pages for more detail.
• Juices on the left hand side, particularly Coconut Water and Greens and Sweet Greens and Lemon are great beginner juices because they are lighter in body with a slightly sweeter profile (from fruit juice) to aid in palette adjustment
• If you find that our beginner juices are still too green for your palette, consider splitting it with a sweeter juice like Pineapple Coconut Water to allow your palette time to adjust to a more 'green-centric' flavor profile.